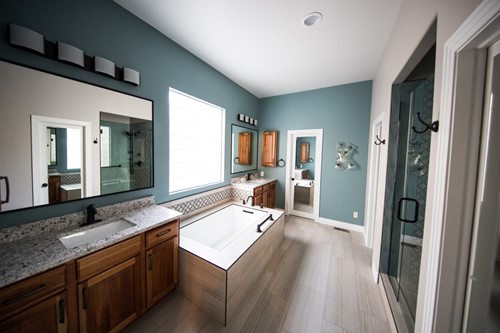 When you're having a custom home built, you'll get to choose the layout for different rooms, including bathrooms. Deciding on a layout for your bathrooms involves knowing how to ensure that these rooms are as functional as possible. Understanding how to choose a layout can make this decision easier to make. Consider the following tips when you need to choose a layout for your new bathrooms.
Set Up Functional Zones
Your bathrooms should have a central area surrounded by what are known as functional zones. These zones are similar to the work triangle that is used for kitchen layouts. For bathrooms, you'll need to decide where to put a toilet, shower, bathtub and vanity. Try putting your vanity close to the toilet, so you don't have to go far to wash your hands at the sink, for example. You might choose to go with a freestanding shower rather than a shower and tub combination to save space. You can also choose to put a separate tub and shower in your bathroom, depending on how much space you have to work with for your layout.
Include Enough Space for Fixtures
Toilets, sinks, showers and tubs all need to have plenty of space for a practical and comfortable layout. You don't want to end up with a sink that's a bit too close to the toilet or a bathroom that feels much less roomy when you put in double sinks. When designing your bathroom layout, make sure you have enough space to fit all fixtures with plenty of room between them. This isn't as much of a problem in larger bathrooms, but it's easy to make spacing mistakes when designing the layout for smaller bathrooms.
Add Ventilation
Bathroom layouts don't just involve deciding where to put your fixtures on the floors and walls. You'll also need to plan for ventilation, which is usually part of the ceiling. Ventilation is important in order to cut down on moisture in your bathrooms. You can ventilate these rooms with ceiling mount fans, vent switches or in-line fans. If you have enough wall space in your bathrooms, wall-mount fans are another option to consider.
Include Storage
Your bathroom layout should also include storage areas for towels, cleaning supplies, toilet paper and other items. You can choose a vanity that doubles as a storage cabinet, which might be an ideal option if you have limited space. For a larger bathroom, your layout might include an area of built-in open shelves or a built-in cabinet for storing items. These storage features can go in a corner of your bathroom where they're accessible yet out of the way, so that you can move easily around the room.
Consider Half-Bath vs. Full Bath
Designing the layout for your bathroom involves considering whether you're putting in a half-bath or full bath. Half-baths only have a toilet and vanity or sink, while full baths have a toilet, vanity and tub, shower or tub and shower combination. You might find that choosing a layout for a half-bath might be easier, since there are fewer fixtures to include. You can put the vanity across from the toilet rather than next to the toilet, for example, since you don't have to worry about fitting in a shower or tub as well.